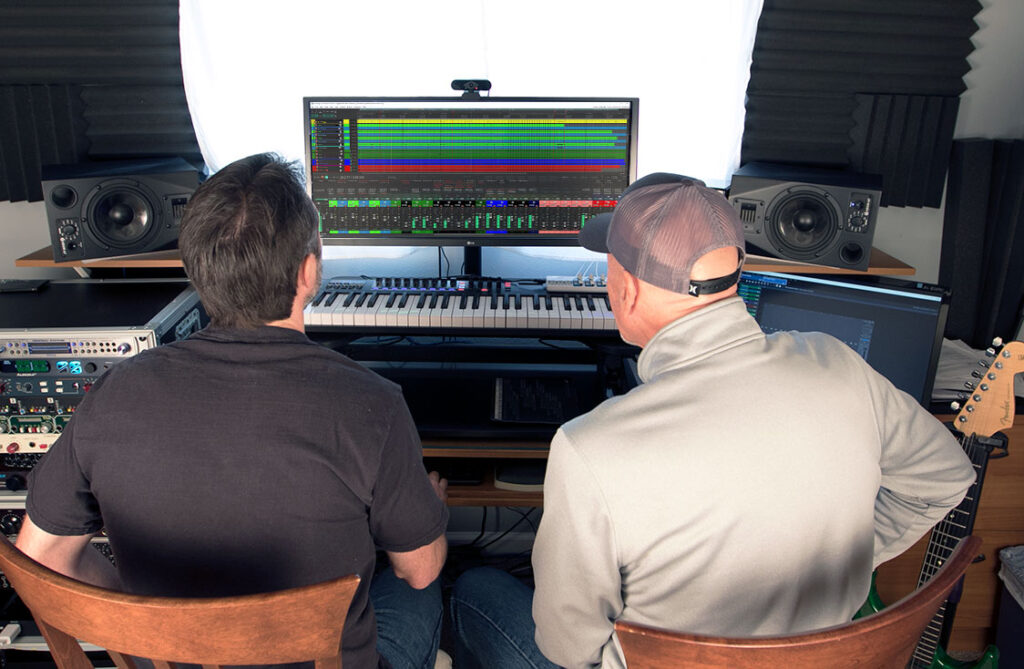 Music Production Lessons
Attain your Goals to Produce Professional Sounding Mixes and Masters to Make your Musical Vision a Reality
Get music production lessons in Orange County or online with Hamrock Music. Learn to produce your preferred style of music in a studio environment and gain professional experience. Master the best methods for recording or "tracking" instruments, including electric and acoustic guitars, vocals, drum kits, bass guitar, keyboards, percussion, horns, strings, etc. Learn to use proper mic techniques, preamps, and gain staging. Become a pro at midi sequencing for use with drum samples, software synthesizers, and automation. Learn tips for capturing the best performance possible.
PRODUCING LESSONS
WHAT YOU WILL LEARN
SETUP
How to get set up with the right audio interface, software, and monitoring system for your needs
USING A DAW
How to use a Digital Audio Workstation "DAW" software program (Ableton, Pro Tools, Garageband, Logic, Cubase, Reaper) to record, arrange, edit, process, and master audio.
BASIC TECHNIQUES
Basics of Audio recording techniques using microphones, mic preamps
MIDI
Midi Sequencing – techniques of synchronization
PROPER USE OF EFFECTS
Proper use of compression, EQ, reverb, etc using plugins including Altiverb, Brainworx, Melodyne, DMG Audio, Elysia, FabFilter, iZotope, Kush Audio, Nugen, PSP,  Slate, Softube, SoundToys, Tokyo Dawn, Sturgis, U-he, Valhalla, Waves, Zynaptiq, and more.
NEWEST TECHNOLOGY
The newest technology in guitar & bass amp emulation software (Amplitube, Positive Grid, Fortin, Neural DSP, etc)  and cabinet impulse responses (Ownhammer, RedWirez)
EDM Techniques
EDM music techniques and synthesis using Arturia, Glitchmachines, IK Multimedia, iZotope, Native Instruments, Rob Papen, Spectrasonics, Sugar Bytes, Synapse Audio, TAL, U-he, Vengeance Avenger, Serum, and more.
WORKFLOW
Learn how to set up a template in your DAW of choice to improve workflow
MIXING FUNDAMENTALS
The central elements every mix should have and tricks for creating a more interesting and exciting mix
DRUM SAMPLING
Drum sample engine plugins including BFD3, Steven Slate Drums 5, Superior Drummer 3, and more.
SAMPLING
Native Instruments Kontakt, TAL Sampler
Mark's Producing Experience
Over 30 years of recording, arranging, producing, mixing, and mastering experience
With over 30 years of recording, arranging, producing, mixing, and mastering experience, Mark Hamrock has become a regular in the Southern California music scene. Mark started as a teenager with a Fostex 4 track cassette recorder, and moved up to an Alesis 8 track ADAT Machine with a 32 channel Soundcraft Ghost in his early 20's. Soon after, he began recording and editing on early versions of Pro Tools, and soon graduated to working on Digital Performer, Cubase, Nuendo, Ableton, and Reaper. Mark has produced and engineered many musicians including Solomon Grundy, Brooks Wackerman (drummer for Avenged Sevenfold, Blink 182, Bad Religion and Tenacious D), Breakfast with the Mayor, as well as many others.
PRODUCING LESSONS
LESSON SAMPLES
Recording Music using Reaper
Setting up and using the template
Audio Compression
What is it? How do you use it? Why do you use it?
Mark is a great engineer, producer, mixer, and musician. The musician part is really important because he understands arrangements and songwriting, and sound. Highly recommended!
James Caldas
Singer/Songwriter
I didn't know a thing about music production and after taking lessons with Mark for a few months I am writing and recording music and now we are starting to get more into mixing. I totally look forward to my lessons every week and am so excited to get to the point where I can make my recordings sound like a pro production.
Christian Miller
Producing Student
After taking some online music production classes through Berklee School of Music and a local community college I started taking lessons with Mark and Hamrock Music has become my university of choice for learning music theory, writing, arranging, recording, mixing, and so much more. Mark is so knowledgeable and is such a great teacher. He really knows how to break things down. I have learned so much more from him than all the other sources combined.
Jared Park
Producing Student