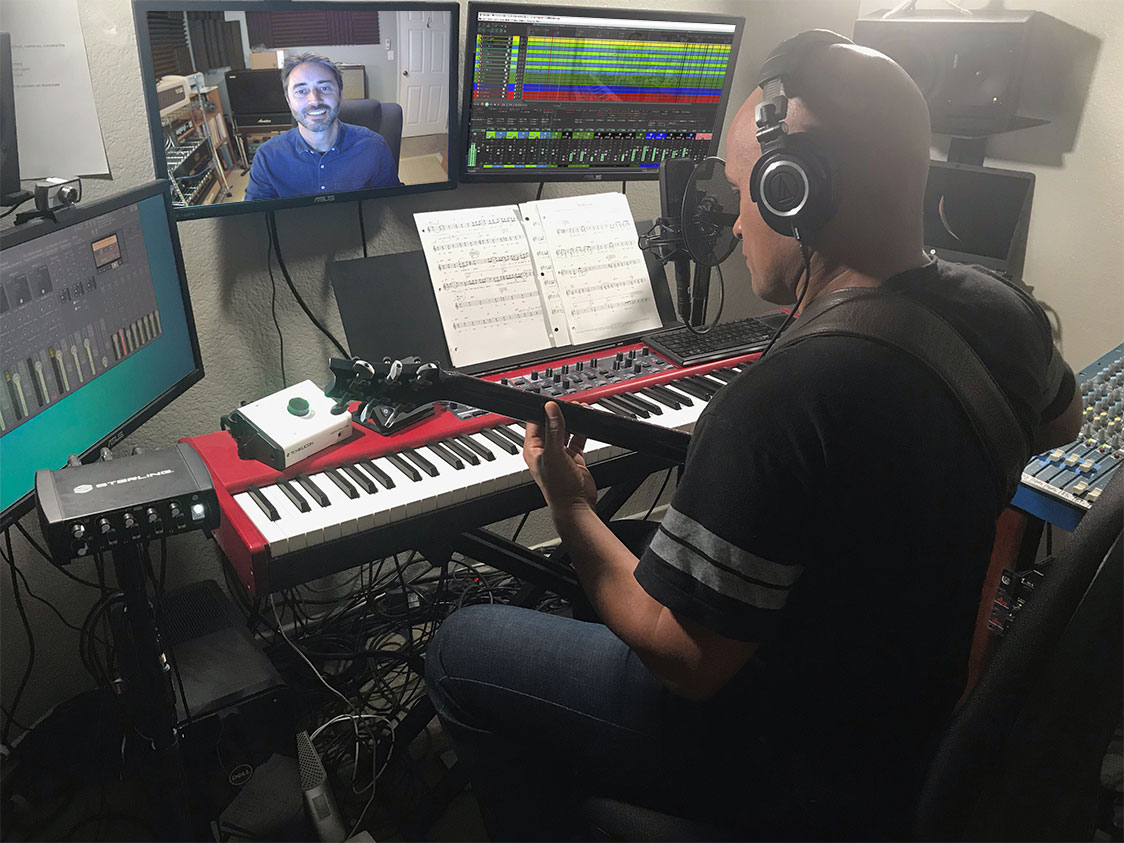 Music Composing Lessons
Learn and Master the Complex Tools and Techniques to Become a Professional Music Composer
Music composing lessons in Orange County or online are now available through Hamrock Music. Learn to compose music for film, video games, and TV at home or in a comfortable studio setting. Now is the most exciting time to be involved in music composition for visual media. Current sampling and synthesis technology enables composers in small studios to harness the power of full orchestras, choirs, ethnic instruments, and sound design, to create any sounds imaginable to express sonically what is being seen by the audience. Learn form & structure, instrumentation, and how to write in different genres including orchestral, chamber, ethnic, period, epic, electronic, documentary, dramatic, fantasy, horror, etc. Learn drills for boosting your creativity and how to compose to enhance the story of the visual media.
COMPOSING & FILM SCORING LESSONS
WHAT YOU WILL LEARN
How to construct a composing template to create an efficient workflow in a Digital Audio Workstation "DAW" software (Cubase, Reaper, Logic Pro, Digital Performer, Pro Tools, Ableton)

Midi Sequencing including midi notes, routing, velocity, continuous controllers, etc.

What is a spotting session and why is it important

How to develop your creativity to your fullest potential

Music theory and techniques including scales and modes, consonance and dissonance, rhythm, melody, harmony, timbre, dynamics, articulations, texture, form & structure, counterpoint, etc

How to compose in different styles and genres
Setting up a Sample Library template in Vienna Ensemble Pro using Native Instrument's Kontakt

Arranging, routing, and using professional sample libraries from companies including 8Dio, Audio Imperia, Best Service, Cinematic Studio, Cinesamples, Embertone, Fluffy Audio, Native Instruments, Orchestral Tools, Sample Modeling, SonicCouture, Spectrasonics, Spitfire Audio, Strezov Sampling, and more

Articulation switching solutions to create realism in the performance

Placement and spatialization techniques to construct a realistic soundstage by using panning and early reflection/tail reverbs. Also use of spatial tools including SPAT, Mir Pro, Panagement, Anaglyph, 2CAudio

Implementing sound design to create sonic textures
COMPOSING & FILM SCORING LESSONS
COMPOSITION & SCORING SAMPLES
Music Composing Lessons
Reviews
I have learned so much from Mark, the lessons have been invaluable! His knowledge of music theory, composition in a variety of styles, and the technical side of scoring music to video never ceases to amaze me.
Kyle Henderson
Composing & Film Scoring Student
The thing that impresses me the most about composing lessons with Mark is his ability to write in so many different genres of music. Orchestral, rock, jazz, country, all types of ethnic styles… pretty much any style I can think of. Plus, he's a really cool guy, he makes the lessons fun!
Jacob Ford
Composing & Film Scoring Student
Scoring music to video is an extremely technical and complex process involving numerous programs running together and communicating with each other on what can be several computers. The main DAW program, Vienna Ensemble Pro, Kontakt or whatever sample engine, and the sample library, PLUS the system for switching articulations! I've learned all of this from Mark in a couple months, he's an amazing teacher!
Don Becker
Composing & Film Scoring Student