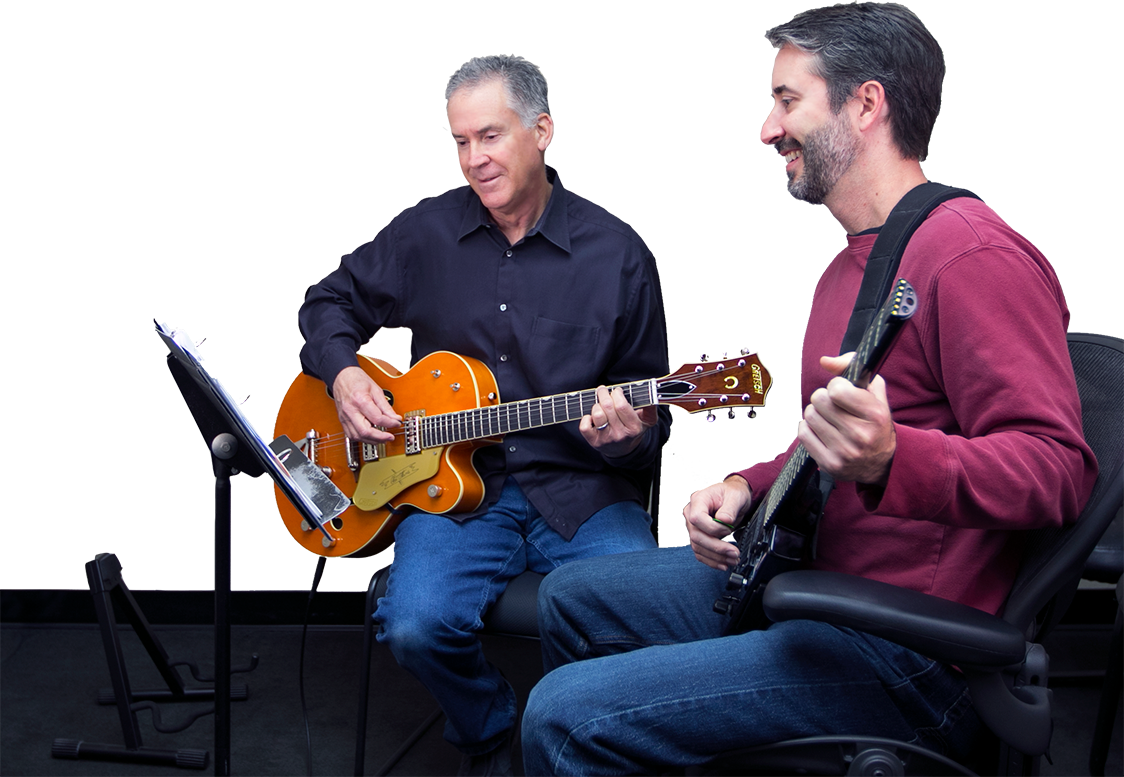 Guitar Lessons – Orange County
Get Guitar lessons in Orange County or online with Hamrock Music.
With over 30 years of playing experience and 20 years of teaching guitar lessons in Orange County, Mark Hamrock has developed a method of instruction that makes learning the guitar fun and efficient. Mark has learned from and performed with some of the biggest names in the guitar world including Rusty Anderson (guitarist for Paul McCartney). Also, Tim Reynolds (Dave Matthews Band), Larry Carlton, Dave Mason with Traffic, David Tannenbaum, Scott Tennant, and many others.
Mark will customize a lesson plan for you based on your skill level, musical styles of interest, and goals you want to achieve. Whether your goal is to play in a band and interact with other musicians or simply learn to play songs, guitar lessons with Hamrock Music will help you achieve your goals in the shortest time possible! Additionally, learn songwriting, music theory, ear training, and more.
GUITAR LESSONS
WHAT YOU WILL LEARN
PROPER TECHNIQUE
Exercises to strengthen fingers and build finger dexterity, independence, speed, and efficiency. Also finger picking, sweep picking, and other advanced techniques.
IMPROVISING
Lead guitar playing and soloing using scales, modes, and arpeggios for any style. Focus on improving phrasing and adding techniques for more interest.
THEORY
Interval and scale theory as well as chord construction and understanding keys. Modal studies and Major/Minor key formula, as well as analyzing songs. Advanced Jazz Harmony and Theory.
EAR TRAINING
Interval, chord, and scale identification training. Learn how to "pick-up" a song on your own.
RHYTHM
Understanding and mastering Strum patterns, finger picking rhythms, alternative rhythms, odd time signatures, funk grooves, etc.
SONGWRITING
All aspects of writing your own songs including chord progressions, riffs, melody, and lyrics.
NOTATION, TABLATURE & CHART READING
Become comfortable enough to sight read and learn music on your own.
GUITAR LESSONS
LESSON SAMPLES
Mark is an amazing instructor and our whole family loves him! He is a brilliant musician and all his lessons have a wonderful mix of musical theory and playing. He is great at introducing new music and is knowledgeable about all genres of music. His lessons are fun and we highly recommend him for everyone!
Mark is incredibly knowledgeable and a fantastic teacher. Able to teach any skill level. You won't find anyone more proficient and fun to be around.
I've been taking lessons with Mark for about a year and I have learned so much. I've went from being able to strum a few chords to playing whole songs and soloing! Not to mention everything I've learned about music theory. Mark has the experience and the patience to teach anyone how to play!