Bass Lessons – Orange County
Reach your goals quickly with Hamrock Music
From over 20 years of providing bass lessons in Orange County, as well as performing at major venues including The Whiskey a Go Go (Hollywood) , House of Blues (LA, Anaheim) , Coach House (SJC) , Observatory Theater (SA), and City National Grove (Anaheim), among many others, bass teacher Mark Hamrock has developed a method to teach you to truly understand the fretboard and to comprehend the theory behind what you are playing when learning a song.
The bass guitar is a great instrument to learn to play whether you want to join a band and play gigs or play along to your favorite recordings. Join over a thousand satisfied students and reach your goals quickly with Hamrock Music.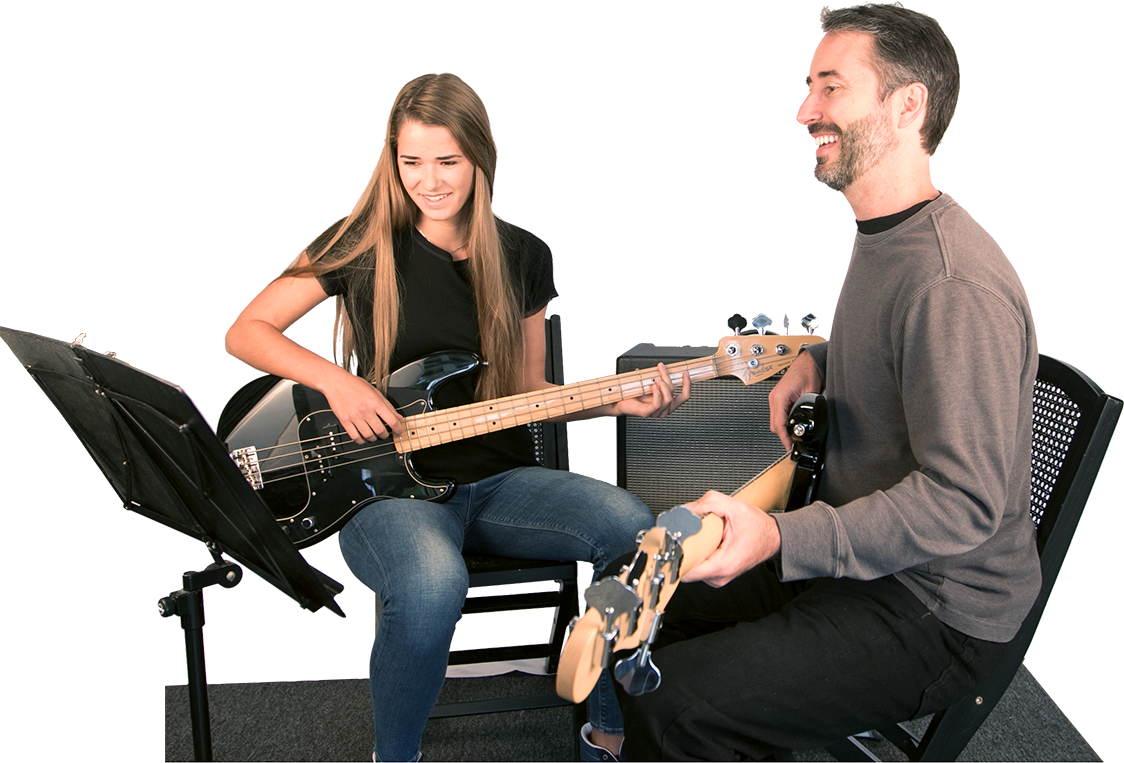 BASS LESSONS
WHAT YOU WILL LEARN
PROPER TECHNIQUE
Learn common right hand techniques including alternating index/middle fingering, playing with a pick, Slap Bass, etc. Left hand exercises for strengthening and building dexterity, speed, and finger independence. With bass guitar lessons, you will also learn advanced techniques such as harmonics, voicing chords, tap techniques, as well as effective practicing techniques.
Approaches to Building and Improvising Bass Lines
Learn to build bass lines based on chordal intervals and/or scalar root/fill approach and rhythmic patterns. Bass guitar lessons will teach you how to build walking bass lines for Blues and Jazz using common and advanced patterns. Learn to create bass solos with effective phrasing and feel.
Rhythm
Understand rhythmic notation and advanced subdivisions for developing more interesting rhythmic patterns. Become comfortable with syncopated rhythms. Learn exercises for locking in with a drummer.
Theory
Learn intervals, pentatonic and diatonic scales (as well as advanced scales), and understand chord construction. Learn the chords within a Key and how this affects bass line construction.
Ear Training
Learn to "Pick Up" bass lines by ear from recordings. Become confident with intervallic and chordal recognition.
Reading Notation, Tablature, and Charts
Become comfortable with sight-reading notation and tablature and improvising bass lines from a chart.
Tonal and Dynamic Production
Learn techniques for producing good tone and keeping a constant dynamic range.
Learning Songs
Bass guitar lessons will teach you how to learn songs in the most efficient manner using techniques for deconstructing and looping sections.
Tools of the Trade
Understand bass gear and equipment including pickups, strings, amplifiers, tuners, metronomes, cables, compressors and effects.
BASS LESSONS
LESSON SAMPLES
Using the Pentatonic Scale
Jazz Bass Lines over Rhythm Changes
Mark gave my bass playing a direction and taught me how to go from a hobby bassist to a working bassist. With his help, I am now a major contributor in an award nominated band and truly write music rather than copying what I hear from tablature. I owe my skill and understanding to Mark.
Mark is a great teacher and with his help I passed auditions, become a member of an "original band," and performed at the legendary "Whisky a Go Go" in Hollywood. It was beyond my wildest dreams to be able to do what I am doing musically, and I would not be where I am without Mark's guidance. I respect Mark as a teacher and consider him a lifelong friend. Thank you for all your support, Mark.
Norio Kaneko
Bass Student
Mark Hamrock is an excellent teacher. He's talented and very knowledgeable. I'm learning classical guitar and Bass Guitar from Mr. Hamrock and I'm playing better than I ever have before… Thanks Mark! (Oh, and he's funny!!!)
Patrick McLinden
Bass Student