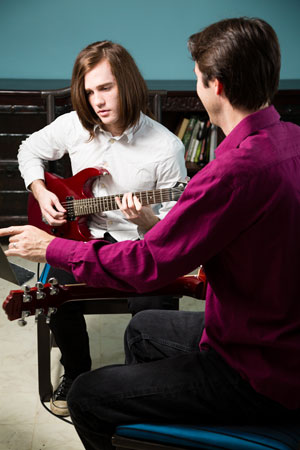 I've learned an incredible amount about the guitar, and even after two years, I still am completely humbled at how much more I have to learn from Mark. If you want to learn guitar, I 110% suggest you have your lessons with him. Melting faces in Aliso Viejo.
Mark is an outstanding guitar teacher. My daughter has been taking lessons from him for a few years and her level of growth has been phenomenal… I cannot imagine a finer guitar teacher.
He has a wonderfully organized approach which is rare in musicians!..It has only been a year, but now I am confident enough to grab my guitar and perform for my friends at parties.
Mark is an amazing guitar teacher with great patience and clarity. I've been taking lessons from him for about three years now…If you want to become a rock star or just to play guitar or bass for a hobby, Mark is the best teacher for you!
If you are serious about wanting to become an excellent guitar player and musician in just about any style you choose, Mark is definitely the one to get you there!
Mark rocks! He has been my guitar teacher for about 5 years and it shows. He's helped me improve my skill and my knowledge of music theory so much…If you're looking for a guitar teacher, look no further, because Mark is the guy for you!
I look forward to starting my second year with Mark. And can t wait to learn more from him. I highly recommend Hamrock music, for all levels from the beginner, to the intermediate, and even the advanced.
The bottom line is that Mark has not only helped me learn to play, he has made it fun. My weekly hour with Mark is the highlight of my week, and his guidance has helped me maintain enthusiasm for learning and playing guitar. And, it's cheaper and better than therapy.
My name is Lisa and I think Mark Hamrock is a fabulous teacher. He has a wonderfully organized approach which is rare in musicians! He challenges me with music and exercises that broaden my skills without frustrating me. He also has a way of teaching music theory that makes so much sense. Mark is a genuinely nice person and I am very glad that I found such an awesome a teacher. Learning to play the guitar has been a great joy to me. Thanks Mark!
There are so many guitar teachers out there; however finding a right guitar teacher is not easy… To be a good and an effective teacher requires a special skill set (e.g. patience, dedication) and a good personality (e.g. easy going). Mark has all of these qualities which make him an outstanding guitar teacher for everyone.
I'm learning classical guitar from Mr. Hamrock and I'm playing better than I ever have before. I've been going for about 8 months, at 30-minute lessons once a week. And there's just something about Mark that makes me want to try really hard and really nail it.
I started taking my 12 year old son to Mark a couple of months ago and am so pleased with the amount of patience, knowledge and ability to teach a child that didn't even know how to hold a guitar previously…Hands down, a great teacher and great experience overall.
I have been taking guitar lessons from Mark for years now. He is great teacher not just because he is well trained and knowledgeable, but he is also outgoing and patient. I would highly recommend Mark for anyone wanting to take their guitar playing to the next level or just to simply enjoy music! You will not be disappointed.
Pretty much my entire ability to play guitar is owed to Mark. I wholeheartedly recommend Mark to any guitar player – beginner or experienced – and look forward to many more years of lessons!
Mark has an extensive knowledge of all styles of music…Mark's professional manner, easy going personality and enthusiasm have made learning the guitar an enjoyable experience.
Mark is a talented instructor; If I don't get what he's saying, he finds different ways to communicate the same idea. I'm grateful to find someone with this approach to teaching.
I've been taking lessons from Mark for about a year now, gladly making the drive from Long Beach to Aliso Viejo. Very much impressed by Mark s level of patience and ability to impart his vast knowledge in a professional and encouraging manner.
If you want to be a better musician call this man! I have been a professional player and educator for several years. Mark has improved both of those things…If you want to improve call this man!
Guitar Lessons – Orange County
With over 30 years of playing experience and 20 years of teaching guitar lessons in Orange County, Mark Hamrock has developed a method of instruction that makes learning the guitar fun and efficient. Mark has learned from and performed with some of the biggest names in the guitar world including Rusty Anderson (guitarist for Paul McCartney), Tim Reynolds (Dave Matthews Band), Larry Carlton, Dave Mason with Traffic, David Tannenbaum, Scott Tennant, and many others.
Mark will customize a lesson plan for you based on your skill level, musical styles of interest, and goals you want to achieve. Whether your goal is to play in a band and interact with other musicians, become a better songwriter, or simply learn how to play songs for self satisfaction, guitar lessons with Hamrock Music will help you achieve your goals in the shortest time possible!
You Will Learn:
Proper Technique
Exercises to strengthen fingers and build finger dexterity, independence, speed, and efficiency. Also finger picking, sweep picking, and other advanced techniques.
Improvising
Lead guitar playing and soloing using scales, modes, and arpeggios for any style. Focus on improving phrasing and adding techniques for more interest.
Theory
Interval and scale theory as well as chord construction and understanding keys. Modal studies and Major/Minor key formula, as well as analyzing songs. Advanced Jazz Harmony and Theory.
Ear Training
Interval, chord, and scale identification training. Learn how to "pick-up" a song on your own.
Rhythm
Understanding and mastering Strum patterns, finger picking rhythms, alternative rhythms, odd time signatures, funk grooves, etc.
Songwriting
All aspects of writing your own songs including chord progressions, riffs, melody, and lyrics.
Notation, Tablature, and Chart Reading
Become comfortable enough to sight read and learn music on your own.
Get started today! Contact Mark Hamrock at 949-230-7136 or send an email to mark@hamrockmusic.com to schedule your first guitar lesson.
Find out what makes Mark the best guitar teacher in Orange County here
Serving all areas of Orange County, California—including Aliso Viejo, Costa Mesa, Dana Point, Irvine, Laguna Beach, Laguna Hills, Laguna Niguel, Lake Forest, Laguna Woods, Mission Viejo, Newport Beach, Rancho Santa Margerita, San Clemente, San Juan Capistrano, Santa Ana, Tustin, and other surrounding areas.
If you live out of the area and are not able to attend Mark's guitar lessons in Orange County personally, online lessons are available via Skype.