In this blog I'm going to talk about how to make your guitar chords sound better. We're going to focus solely on the basic open (or "cowboy") chords for now, I'll address bar chords in a later blog.
The first thing you want to make sure of is that your guitar is able to produce clean sounding chords.
– Make sure your guitar is "set up" (adjusted) correctly – The action (distance of the strings to the fingerboard) should not be set too high to enable you to play chords much more efficiently. There are a number of reasons why it could be set too high, including the truss rod needing to be adjusted, the nut needing to be replaced or filed, and the saddle(s) needing to be filed or adjusted. You can take your guitar to a local repair shop or luthier for a set up to fix any of these problems. The set up should also include correcting the intonation to ensure chords played up the neck will be in tune.
– Make sure the guitar is in tune – Use an electronic tuner to tune each string. Headstock tuners, such as the Snark SN5 clip on tuner, tend to be the most accurate, although there are some good smart phone app tuners, such as the N-Track tuner (iOS, Android).
Beyond that, it's up to the user to create clean, shimmery chords:
– Use proper playing position – It not may seem like it but playing in a proper sitting position can have a lot of effect on your ability to play in general. Sit up straight and keep your shoulders relaxed. Keep your left wrist straight (and flat on the back side up to your knuckles) and bend the knuckle joints to get enough of an arc to play with the tips of the fingers. Keep your thumb centered in the back of the neck adjacent to your middle finger. Keep the palm open (don't press it up against the neck).
– Keep your fingernails cut short – This will enable you to play more on the tips of the fingers closer to the fingernail.
– Play up against the fret – Get as many fingers as you can right up to the fret to get a clearer tone.
– Push just hard enough to get a clear tone – You really don't need to press as hard as you think you do to get a clear tone. With that being said, this will depend on the guitar you are playing on. For example, you will have to press harder on an acoustic guitar with sky high action than you would on an electric guitar with low action.
– Go through each chord and "arpeggiate" them – Form the chord and then pluck each string independently to see if any of them sound muted or buzzy. There are typically 3 main reasons why a string will not ring clear:
1) If it sounds muted, make sure there is not a finger on the strings above that is touching the muted string. This ties back into the importance of playing on the very tips of your fingers.
2) If you are getting a buzzing sound, make sure you are right up against the fret. You will get a clearer tone and you won't have to push as hard.
3) If the string buzzes or sounds muted make sure you are pressing hard enough on the string. Again you want to be pressing just hard enough to get a clear tone.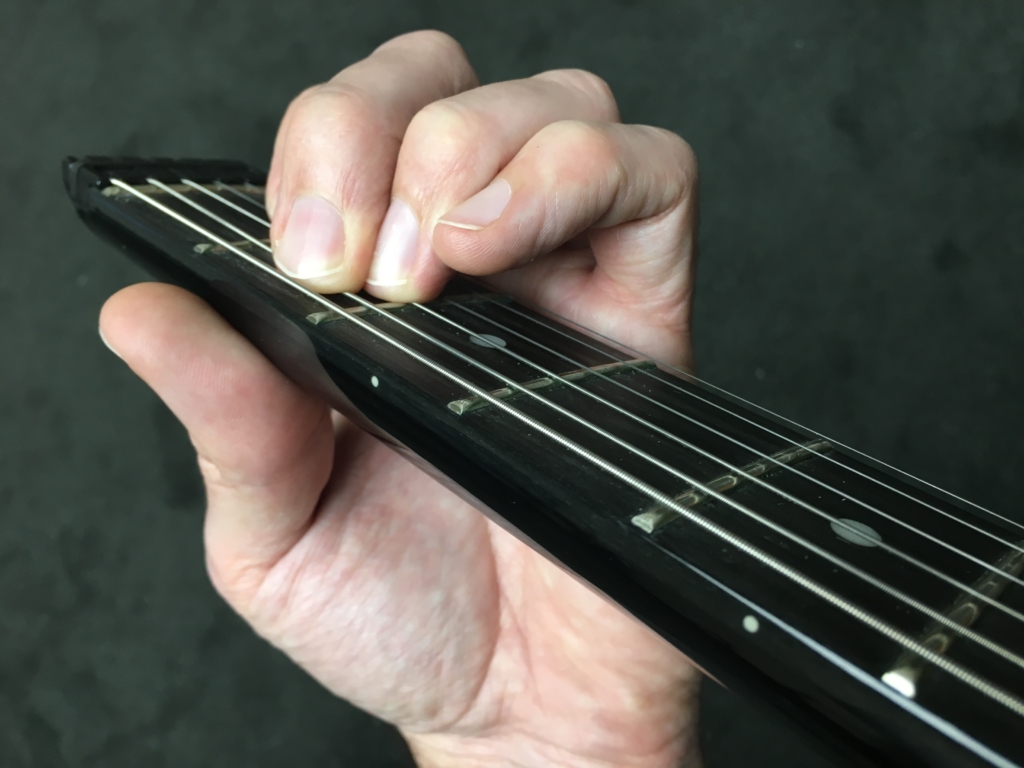 – Last of all, PRACTICE – It will take time and reps to get great sounding chords. As long as you follow these tips and put in the man hours you will get there!
[schema type="organization" orgtype="LocalBusiness" url="http://hamrockmusic.com/" name="Hamrock Music Instruction" description="Guitar lessons in Orange County Ca, serving Aliso Viejo, Costa Mesa, Dana Point, Irvine, Laguna Beach, Laguna Hills, Laguna Niguel, Lake Forest, Laguna Woods, Mission Viejo, Newport Beach, Rancho Santa Margerita, San Clemente, San Juan Capistrano, Santa Ana, Tustin, and other surrounding areas." street="22982 La Cadena Dr #110″ city="Laguna Hills" state="California" postalcode="92653″ country="US" email="mark@hamrockmusic.com" phone="949-230-7136″ ]