Looking for the best Zoom bass lessons on the internet? Mark Hamrock has taught guitar, bass, songwriting, and music production lessons for over 20 years. With over 10 years of experience teaching videoconferencing lessons via Skype, Zoom, and FaceTime, he has plenty of know-how to teach beginners to advance students how to progress quickly and efficiently. To see some of Hamrock Music's students and their accomplishments, click here.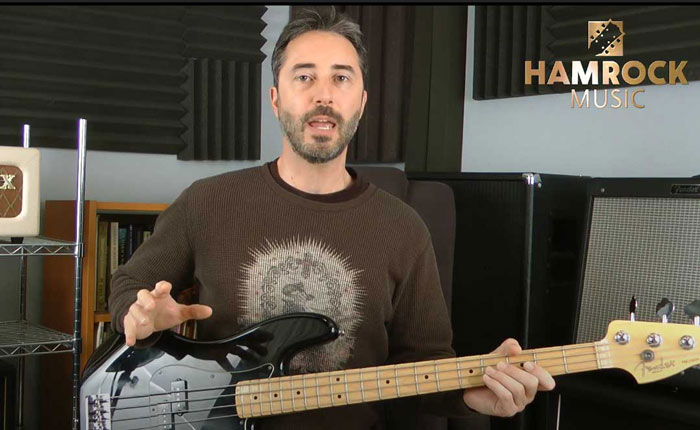 Mark uses software programs such as Guitar Pro 7, Voicemeeter, Reaper, etc to present interactive online private tutorials to students all around the world. In a Zoom bass lesson with Hamrock Music, students are able to record a video of the lesson to review and receive materials and a weekly assignment to practice. Increasingly, more students are preferring their guitar lessons via Zoom over in person lessons because of these factors, as well as the convenience of being in their own homes.
Mark Hamrock has been a musician, producer, recording engineer, and instructor in the Orange County music scene since the 90's and has taught many local guitar and bass teachers in the area. He studied rock and blues with Rusty Anderson (guitarist for Paul McCartney, Elton John, Willy Nelson, Santana, and more), classical guitar with David Tanenbaum and Scott Tennant, and jazz with Alan Rowe (Stan Kenton Orchestra, Keith Jarret).
Mark graduated Honors with a Bachelor of Music Performance Degree from the University of California, Irvine and has toured and performed with guitar legends including Larry Carlton, Tim Reynolds (Dave Matthews Band), and Dave Mason with Traffic.
Sign up today for a 15 minute free consultation with Hamrock Music. Contact Mark Hamrock at 949-230-7136 or send an email to mark@hamrockmusic.com to schedule.