The Best Beginner Guitar Amps for 2022
In this blog we're going to break down the best beginner guitar amps for 2022. The following are selected based on reviews and affordability. Most beginners will want to start off with something smaller and less expensive and then upgrade later. In fact, I recommend to beginning students to spend as much as they can on the guitar and just get an introductory amplifier to get you started because you can, AND WILL, want to upgrade as you progress.
Honeytone N-10 Guitar Mini Amp
I actually own the older Danelectro version of this amp and it has served me well as a travel amp. The ability to be powered by a single 9 volt battery (you can also purchase the Danelectro DA-1 adapter) and the belt clip make it a great choice. For the size and price, this amp actually puts out a fairly decent tone. The overdrive does a halfway convincing job and the included headphone jack solidifies the N-10 as a great buy.
Rogue G10 10W 1×5 Guitar Combo Amp
If simplicity, portability, and affordability are what you're after, look no further than the Rogue G10. This amp features both clean and overdrive channels and a two band (Treble, Bass) EQ. another feature is a headphone jack for practicing late nights (plugging in to the headphone jack disables the speaker). The Rogue G-10 is a great starter amp and will continue to serve as a practice tool for those that graduate to a larger amp.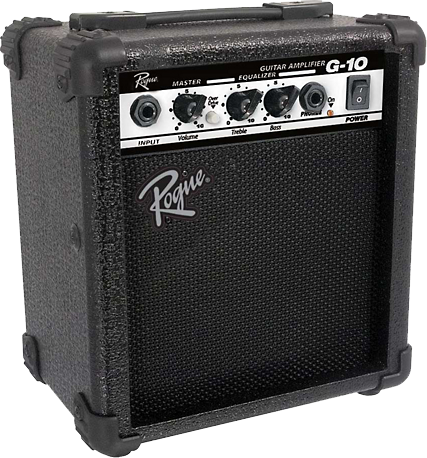 Vox amPlug 2 AC30 Guitar Headphone Amp
If you plan to mainly practice using headphones to spare your loved ones another potential option is a guitar headphone amp. Vox popularized these over 10 years ago and their latest amPlug 2 model is battery powered (with up to 17 hours of use). It plugs directly into your guitar's ¼" output jack, enabling you to plug headphones AND an Mp3 player into it and eliminating the need for an amp and cable. The amPlug 2 boasts 3 amp models and 9 effects (Chorus x 3, Delay x 3, Reverb x 3) making this a feature-packed bargain!
Acoustic Lead Guitar Series G20 20W 1×10 Guitar Combo Amp
The Acoustic G20 steps us up into the 10" speaker range for a fuller tone that is hard to be reproduced by a smaller speaker size. This amp features a 3-band EQ with Mid Shift, 2 channels for playing clean or crunchy, plus a gain knob for controlling the amount of drive on the second channel, a headphone jack for silent practicing, and an aux input for plugging an MP3 player or smartphone in.
Shop here for the Acoustic Lead Guitar Series G20 20W 1×10 Guitar Combo Amp
Fender Mustang LT25 25W 1×8 Guitar Combo Amp
If you're looking to play with a variety of tones, the Fender Mustang LT25 might be right up your alley. This amp incorporates amplifier modeling technology to replicate an assortment of different sounds, 30 presets to be exact, controlled using a simple interface. This amp also includes a headphone jack for silent practicing. Even though this amp only has an 8" speaker, it has a surprisingly good tone.
Shop here for the Fender Mustang LT25 25W 1×8 Guitar Combo Amp
Fender Champion 40 Guitar Combo Amp
The Fender Champ 40 steps us up into partial "big boy" territory by entering the 12" speaker range (full size for electric guitar amps). I, personally, have a hard time plugging in to any amp that uses smaller speakers because I love having the full range deep tones of a 12. Features include everything you would want in a beginner practice amp including various amp models and effects (Reverb, Delay/Echo, Chorus, Tremolo, Vibratone, and more. Delay Time and Tremolo speed can easily be set with the TAP button), an Auxiliary input for jamming with media players, as well as a headphone output for silent practicing.
Click here for more information on guitar lessons with Mark Hamrock.
Check out Hamrock Music's YouTube Channel for video lessons for learning guitar, bass guitar, music theory, songwriting, composing, and music production.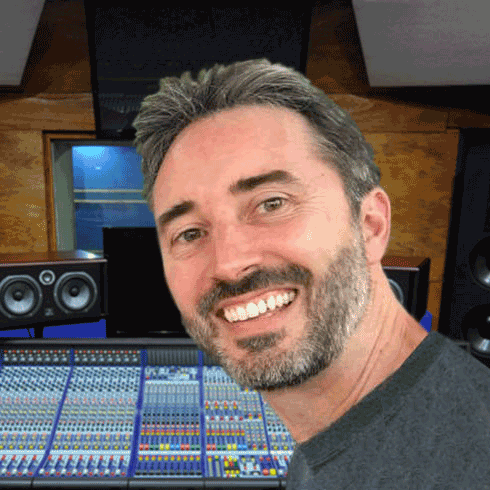 Mark Hamrock has been Orange County's premier guitar and bass guru since 1995, teaching students how to excel in every genre including rock, blues, classical, metal, funk, and country. After studying rock guitar with Rusty Anderson (Paul McCartney, Elton John, Steven Tyler of Aerosmith, Willie Nelson, Santana), classical guitar with David Tanenbaum, Scott Tennant, Ricardo Cobo, John Schneiderman, and Jazz with Alan Rowe (Stan Kenton Orchestra, Keith Jarret); Mark has gone on to tour extensively and perform in concerts featuring Jazz Legend Larry Carlton, Tim Reynolds (Dave Matthews Band), and Dave Mason with Traffic. He currently produces, composes, engineers, and teaches, and is working on developing a series of instructional books and videos for guitar and bass. In what little free time he has, Mark enjoys traveling, culinary arts, scuba diving, and entrepreneurial pursuits.