Many aspiring bass players who are looking for bass guitar lessons in Orange County inevitably come across Hamrock Music. Started over 25 years ago by owner Mark Hamrock, it quickly became the place for guitar and bass lessons. Mark first become a staple of the Orange County music scene by performing in various bands at many venues in the area. These included The House of Blues, The Coach House, The Observatory, and the Grove of Anaheim. he then went on to become the go-to music instructor for guitar and bass.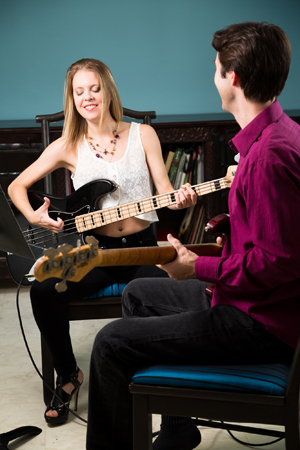 "I started off playing bass guitar in (the band) Solomon Grundy in a lot of the clubs in Orange County when I was 19 years old. I was actually not old enough to get into the clubs because of drinking laws but somehow I got away with it," says Mark. "I always taught bass guitar on the side… even when I was in High School, and over the years developed a method that has really helped a lot of bass players get to the next level."
Mark has more recently been getting into more music producing and composing for film, dance, and video games. He still keeps a consistent student base and enjoys every minute of it.
"It is very rewarding for me to see students that started off hardly knowing anything get to the point where they are playing in bands and really enjoying themselves. I remember that feeling myself, although nowadays I think it's probably harder to play in clubs if you are under age" Mark laughs.
If you are looking for bass guitar lessons in Orange County, call Mark at 949-230-7136 now to get started. For more information on bass guitar lessons, click here .
Click here for more information on guitar lessons with Mark Hamrock.
Check out Hamrock Music's YouTube Channel for video lessons for learning guitar, bass guitar, music theory, songwriting, composing, and music production.